焼さばフレーク缶詰
Canned- grilled SABA flake ( mackerel )
No one has ever had it as a standing food: our home cook dish [ grilled Saba fish ] to be canned…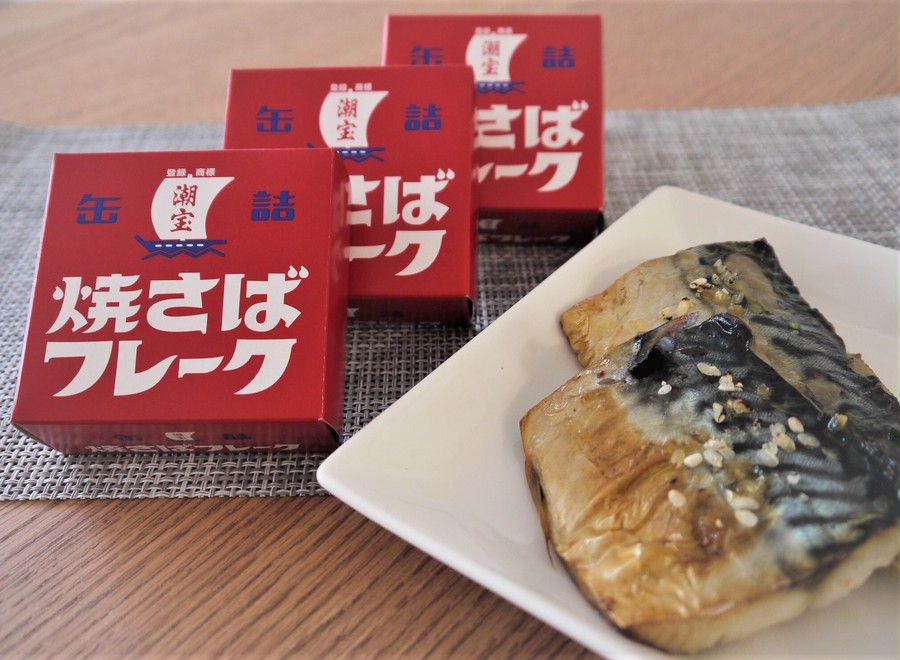 食卓で根強い人気を誇る「焼さば」。静岡市では「さばの糀漬け」が有名でもありますが、県内でも中部エリアだけ、県外では知られていないことをご存じでしたか?
そんな「さばの糀漬け」を全国や海外でも知ってもらえるようにと、焼く手間、食べる手間を省いたら魚離れの世の中でも広がるのでは?という発想から商品化しました。

It is our regular member on our dining table: grilled Saba ( mackerell ) . Did you know that the [ grill of marinated mackerel with Kōji ( rice that has been inoculated with kōji mold,] is very popular only within the central Shizuoka and actually not widely known to other areas of Japan and overseas?
This new product was born from a simple question: whether the idea of saving unfamiliar work to grill or to prepare fishes will encourage more people to eat fish?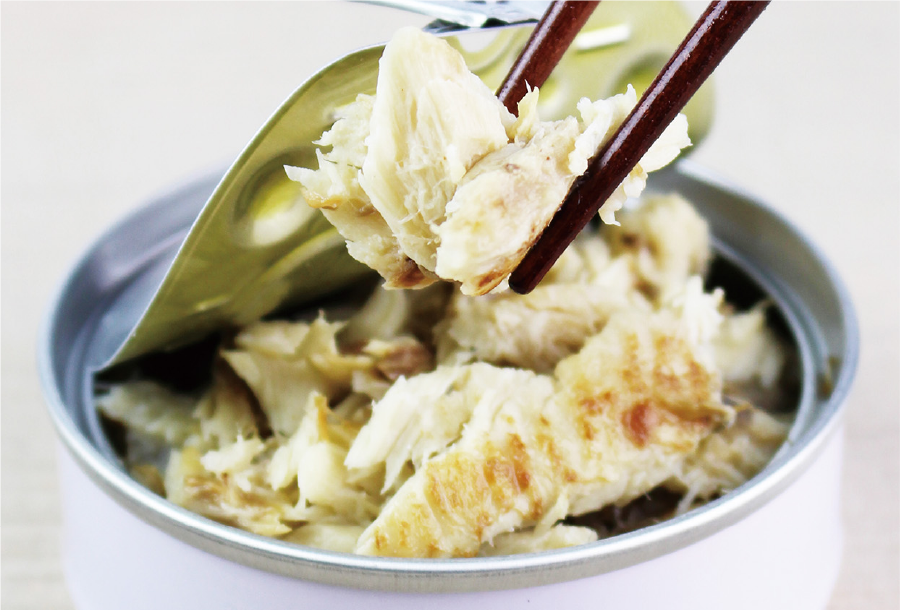 脂がのったさばを、臭みを抑える竹焼き塩を用いて焼き上げ、丁寧にほぐし身にして缶詰に。
海洋深層水も使って、しっとりとした焼さばのフレークは、ご飯にはもちろん、お酒のおつまみとしても美味しくいただけます。大根おろしをトッピングしたり、マヨネーズと和えてサンドイッチの具にしたりとアレンジもいろいろとお楽しみください。

The oil-rich Saba was grilled with bamboo salt ( mineral-rich salt is stuffed and baked in a young bamboo in advance ) and then flaked for canning.
Deep sea water makes the texture surprisingly moist, and you can enjoy it as both good company for rice or sake. Its arrangement can be created by you infinitely, for example, topping with grated radish or using mayonnaise to make sandwich...do as you wish!
竹焼き塩の効果
Good effect of the bamboo-grilled salt
静岡市葵区の山間部で作られている竹焼き塩は、竹をくりぬいて塩を詰め込み、800℃くらいの窯に入れ、真っ黒くなるまで焼きます。完成したら竹を割り、周りの焦げた塩を取り除いて、白くなった中央部分を削るように細かい塩にしていきます。この竹焼き塩はpH8~9のアルカリ性でミネラルが豊富、抗酸化作用があると言われ、生魚(さば)の臭みを取り、さばが締まった身になります。

Bamboo-baked salt is made in the mountaineers area of central Aoi district in Shizuoka city.
First of all, bamboo is emptied and stuffed with salt, then baked in the oven up to 800 ℃ until it becomes charcoal. When completed, open the bamboo to take out only the central part of the baked salt that stays in white color. The powdered white salt contains 8-9 alkalic levels, rich in minerals and even has a significant antioxidant effect. The fishy smell is removed and the texture gets firmer, thanks to this unique salt.
焼サバフレーク缶詰
6個入り 3,766円 ( 税込、送料込)


Canned- grilled SABA flake ( mackerel )
6 pcs / 1 set
Price: JPY 3,766 ( tax & delivery charge included )

潮宝食品株式会社
Choho Shokuhin Co., Ltd.