ティーペアリングで静岡&駿河会席体験 / 【Shizuoka & Suruga area】Experience a Japanese multi-course meal with "Tea Pairing"
*Tax included.
*Shipping fees are free on this item.
Product Info
<Notes>
・Duration: ~1.5hr
・We have a four person minimum. Please apply with more than 4 people.(13,750yen / person)
・An interpreter can be arranged for a fee.
・If you have any food allergies, please let us know in advance.
・Alcohol is not included in the price.

<詳細>
・所要時間1.5時間程度
・最少催行人員4名様となりますので、4名様以上でお申し込み下さい。(一名様13,750円)
・通訳手配は別途料金が発生します。 
・食物アレルギーなどあれば事前にお知らせ下さい。
・料金にアルコール飲料は含まれません。
If you are looking for authentic green tea, Shizuoka prefecture is the place to be. Green tea is one of its local specialties! Now we offer the "Tea pairing" plan which is a new way to enjoy green tea. Immerse yourself in Japanese culture!
What's Tea pairing?
Have you ever thought of what are the best foods to pair with Japanese green tea? Tea pairing offers a superb combination of green tea and authentic Japanese cuisine. You can enjoy a Japanese multi-course meal at the Japanese restaurant "Kakuya Bessho". A tea specialist called "Chashi" from "Iwasaki Seicha" makes several kinds of tea for you that go perfectly with the food. You will be amazed by the combination of authentic Japanese teas and delicious cuisine.

お茶の魅力を再発見できるティーペアリングとは?
季節の食材のコース料理と茶師が淹れるお茶のペアリング。
前菜からデザートまでそれぞれの料理に合わせてその場で茶師さんがお茶を淹れます。
(「茶師」=お茶を選定・調合して製品に仕上げるお茶のプロ)

茶師は、国内外のお茶イベントで活躍するマルヒデ岩崎製茶の岩崎泰久さん。
料理人は、覚弥別墅(かくやべっしょ)の和食統括料理長、勝呂文洋さん。
今回ティーペアリングを楽しめるお店は、勝呂さんが料理長を務める覚弥別墅(かくやべっしょ)。

美味しいコース料理とお茶を堪能しながら茶師岩崎さんのお茶の魅力や楽しみ方などを聞くことができます。お茶と日本料理、それぞれの繊細な味を五感で楽しめます。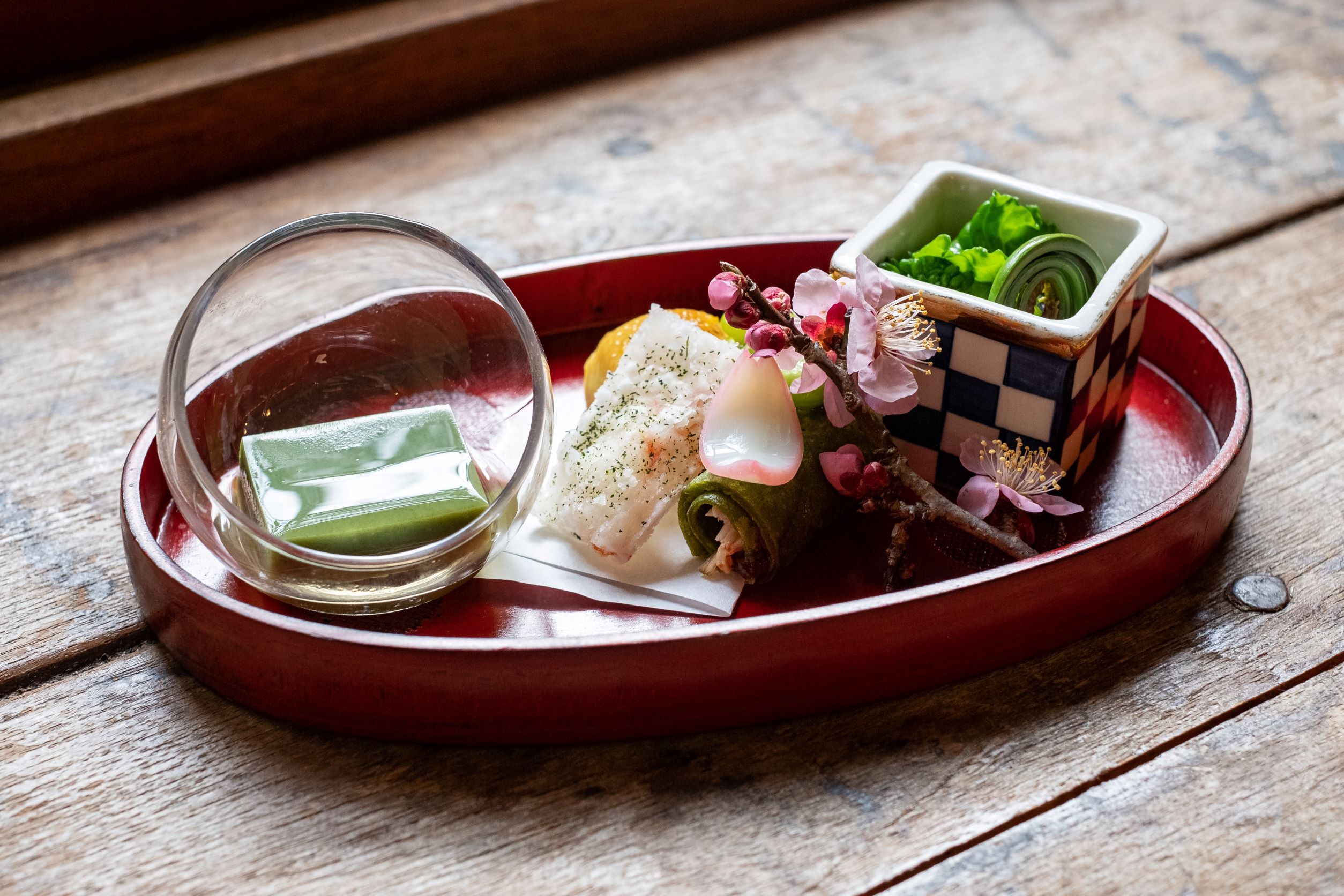 ※コースの内容は季節によって異なります。こちらは春のメニューの一例となります。
はじめての方は最初に右上【初めての方に FOR FIRST TIME VISITORES】を必ずお読みください。