静岡発、世界に一つだけのアクセサリーを気負わない普段使いに。
Only one piece in the world for everyday use.
『ブランド紹介』 Brand introduction
静岡在住とんぼ玉作家の光後明人氏が立ち上げたブランド。
美しい色とシンプルなデザインで、性別や年齢に関係なく様々な人につけてもらえるアクセサリーです。

光後氏は、これまでの様々な人との出会いが生み出してきた自身の世界観をガラスと火によって美しく融合させ、見る人を引き込む作品に昇華させます。

特にビーズ制作が盛んなアメリカでは展示会もあり、来日したAndrea Guarino氏をはじめとする作家らとのこれまでの出会いも光後氏の作風に大きな影響を与えました。
静岡を離れ長く暮らした高知の自然豊かな風土もおそらく、光後氏の作品に見られるどこか穏やかで優しい色合いに関わっているのでしょう。FIEJAセレクション向けに選ばせて頂くにあたり、どれも一点物の美しさが語りかけてくるようで随分迷いました。

特にご覧いただきたいのが、イタリアのモレッティガラスをはじめとするCOE104と呼ばれる種類のガラスの際立つ透明な美しさ。
バーナーワークという技法で作り出されるそのガラス工芸の世界は、一点物しか生み出せない繊細さとゆらめきを閉じ込めています。じっと眺めると、こちらが吸い込まれれてしまいそうです。

こちらでは、日常使いにお使いいただけるシンプルで上質な組み合わせを3種類選び、
FIEJA SELECTIONとしてご紹介します。

一点物の工芸品を普段から身に纏うことで、あなたの1日が素敵になりますように。
canary104 was established by a glass beads artist Akihito Kogo, who works in his atelier in Shizuoka city.
His accessory collection, Its stunning beauty of a clear color and the simple design attracts people with no border of gender or age.
Through his life experience , an unforgettable encounter with different people had given him important inspirations, and when they are fired, mixed, shaped, and then become unique glass accessories that take us to the imaginary world of glass art.

In America, glass bead art is popular and also there are big events of glass crafts & beads. He received a significant influence when he met several artists such as Andrea Guarino from America in Japan.

His past residential place, Kochi prefecture had also helped him creating his own style, as you can see from the gentle and peaceful color combination.

This time, FIEJA has selected 2 series of his artworks. However, it was such a tough decision as each of the glass was too beautiful to choose.
[ Feature ]
Please look at the details of a cleaness of the glass, a mixture of Italian Moretti Glass and another kind of glass called COE104.

These glass artworks are created with a burnerwork technique, only made piece by piece, and each of them contains sensitive mixture of swaying colors in it. When looking at the glass, we feel as if we were going to be swallowed into the depth.

For his first time release on FIEJA SELECTION, we have selected 3 sophisticated color combination, each of them suits your everyday use.

Enjoy wearing something only one piece in the world for your daily style, hoping that these will make your day special.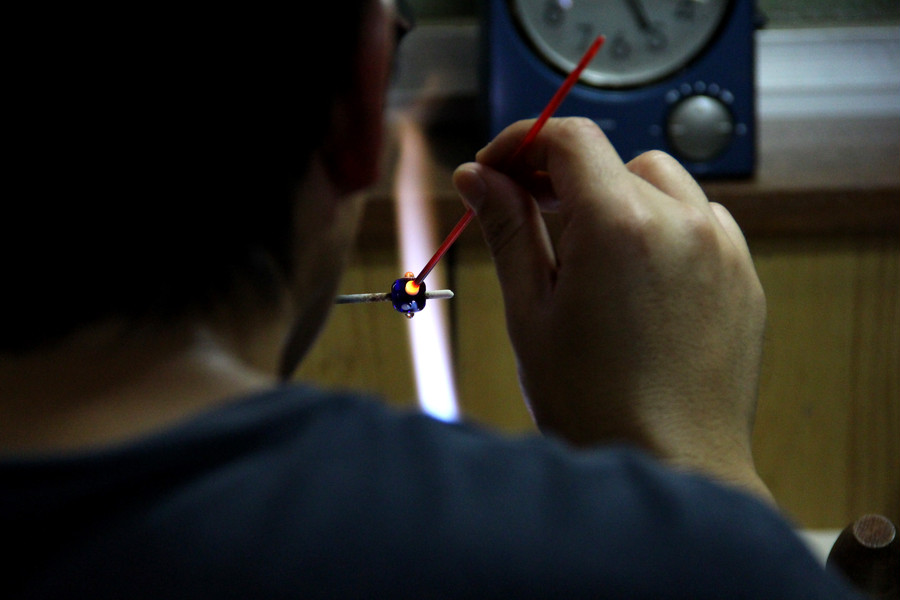 バーナーワークと呼ばれる繊細な仕事は、静かな空間で進められます。
Sensitive burnerwork is made in the silence of his atelier.
商品紹介 Product introduction
紫檀、黒檀と並び「唐木三大銘木」と呼ばれ、美しい色目が特徴の「タガヤサン」
(鉄刀木)
その上質でなめらかな木目に、美しい一点物のガラス玉がついた靴べらです。

程よい存在感のとんぼ玉のお陰で、持つ時にしっかり安定して使うことができるのがこの商品の魅力。
外出先でさっとこんな靴べらを取り出したらとても素敵ですね。
長く愛用していただきたい一点です。今回はそれぞれ異なる3点をご用意しました。

Iron wood is reputed as one of the [ 3 high grade woods ] together with rosewood and ebony.
This dark, smooth surface of wood was crafted into a wooden shoe horn , with a company of beautiful glass bead.

In addition to this extraordinary combination, the bead assists the shoehorn held firmly with hand when you put on and off the shoes. This stylish charm will give a cool impression when you humbly take it out from your bag,
There are 3 different beads for each item. Cherish this one piece in the world item as your essential tool.
1)イカットホワイト/ Ikat white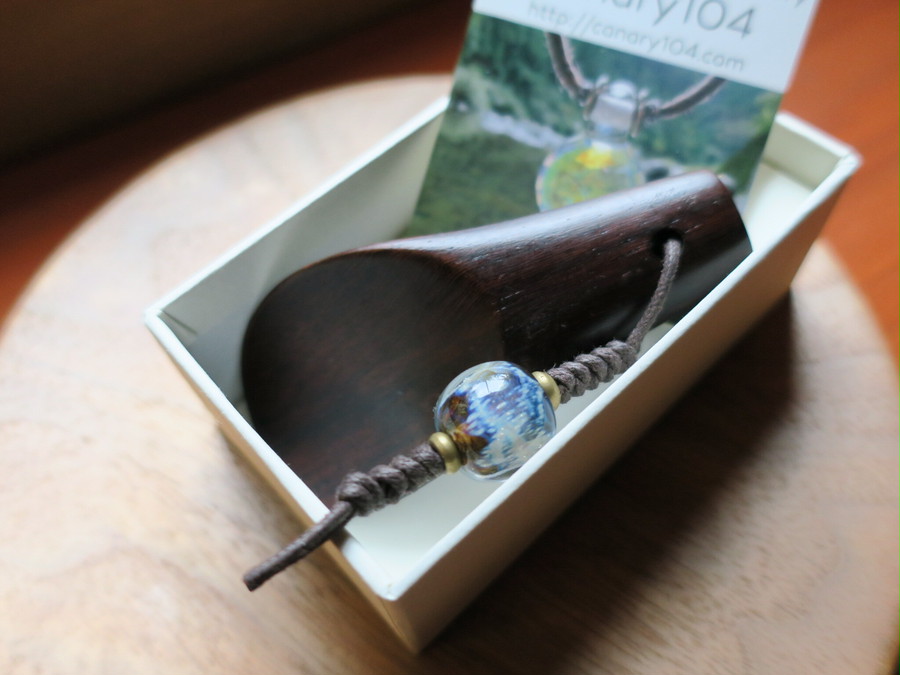 深い藍色と白が具合が美しく透ける組み合わせです。
A design, beautiful dark indigo blue and white looks like that of ikat weaving.
2)プラネタリウム ブルー / Planetarium blue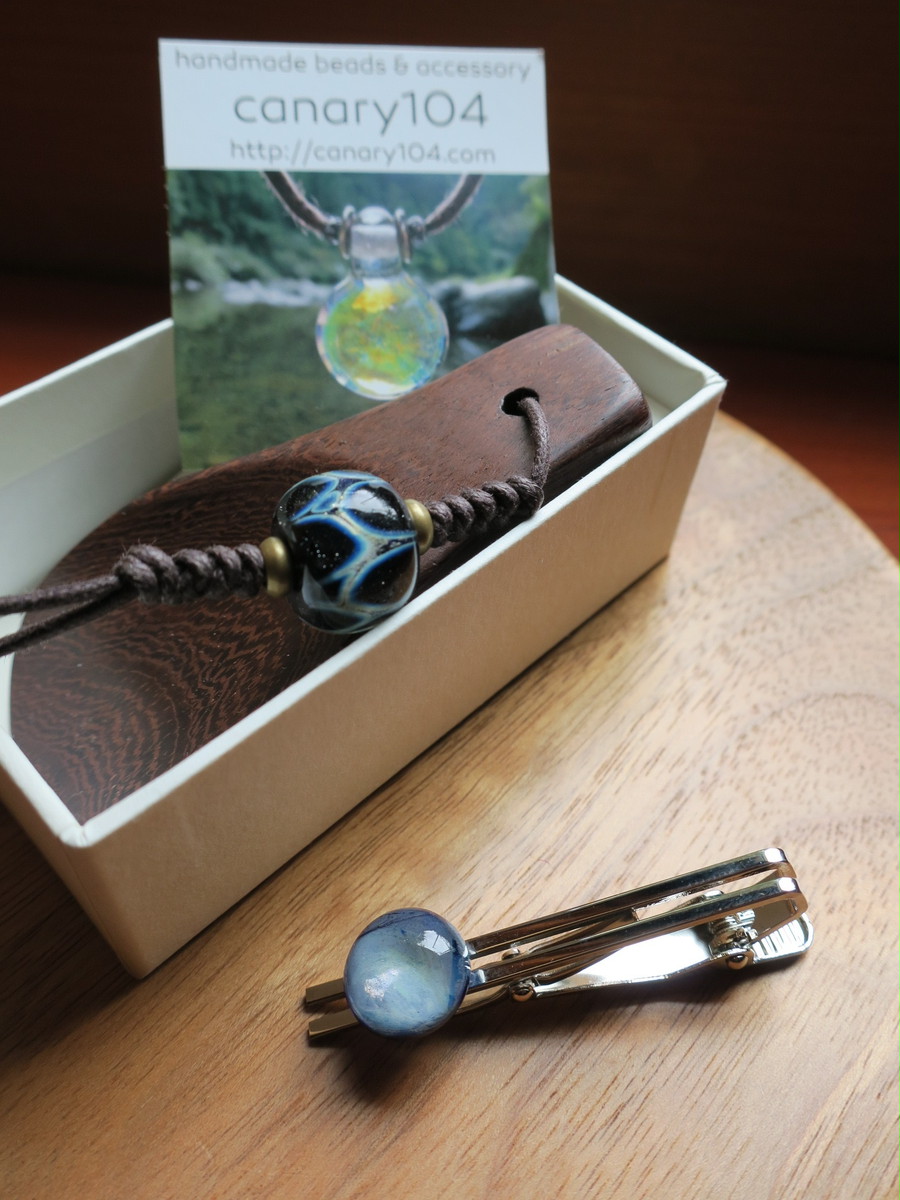 *タイピンはセットには含まれません。Tiepin is not included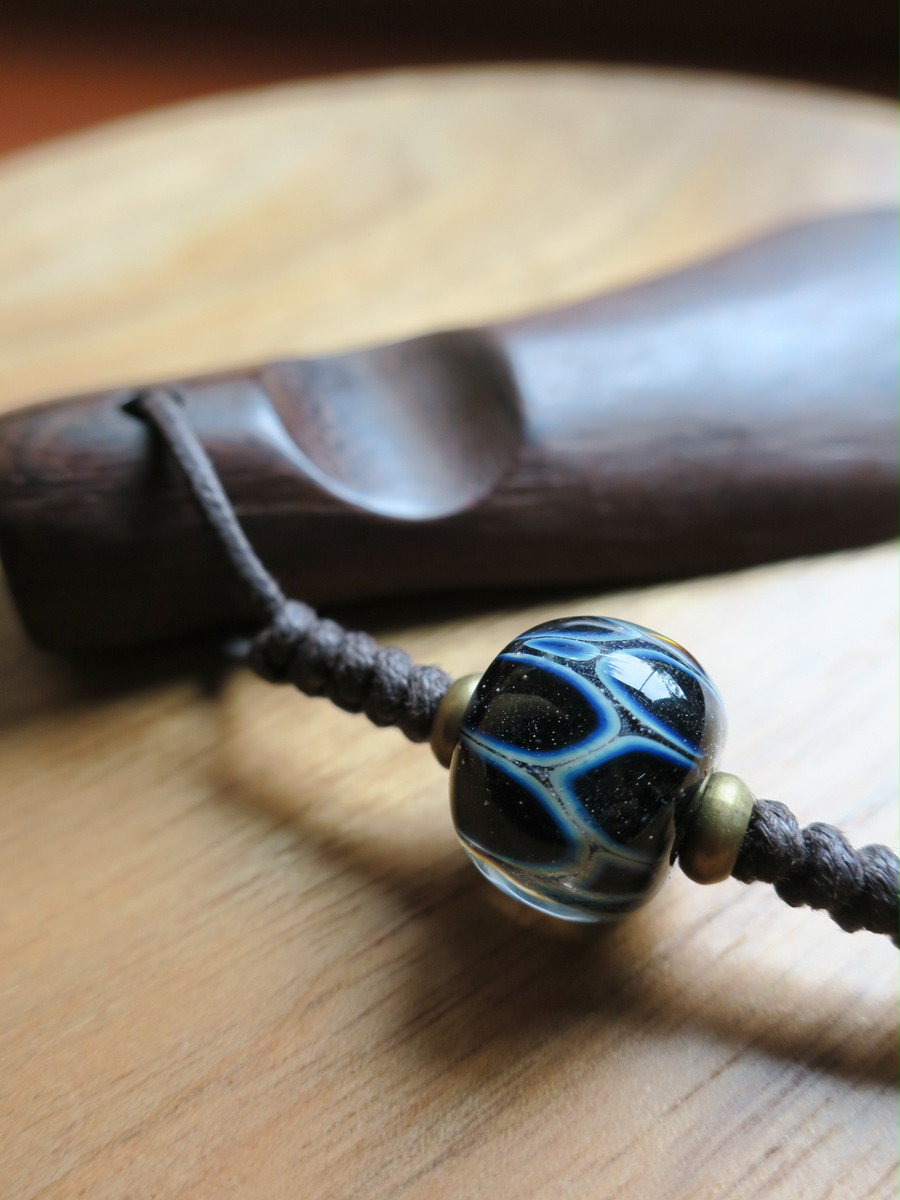 まるでプラネタリウムの世界が広がる様な深い色。はっきりした青の白のグラデーションが綺麗です。
A dark, mysterious blue like a planetarium is borderd with soft gradation of white.
3) エメラルドグリーン/ Emerald Green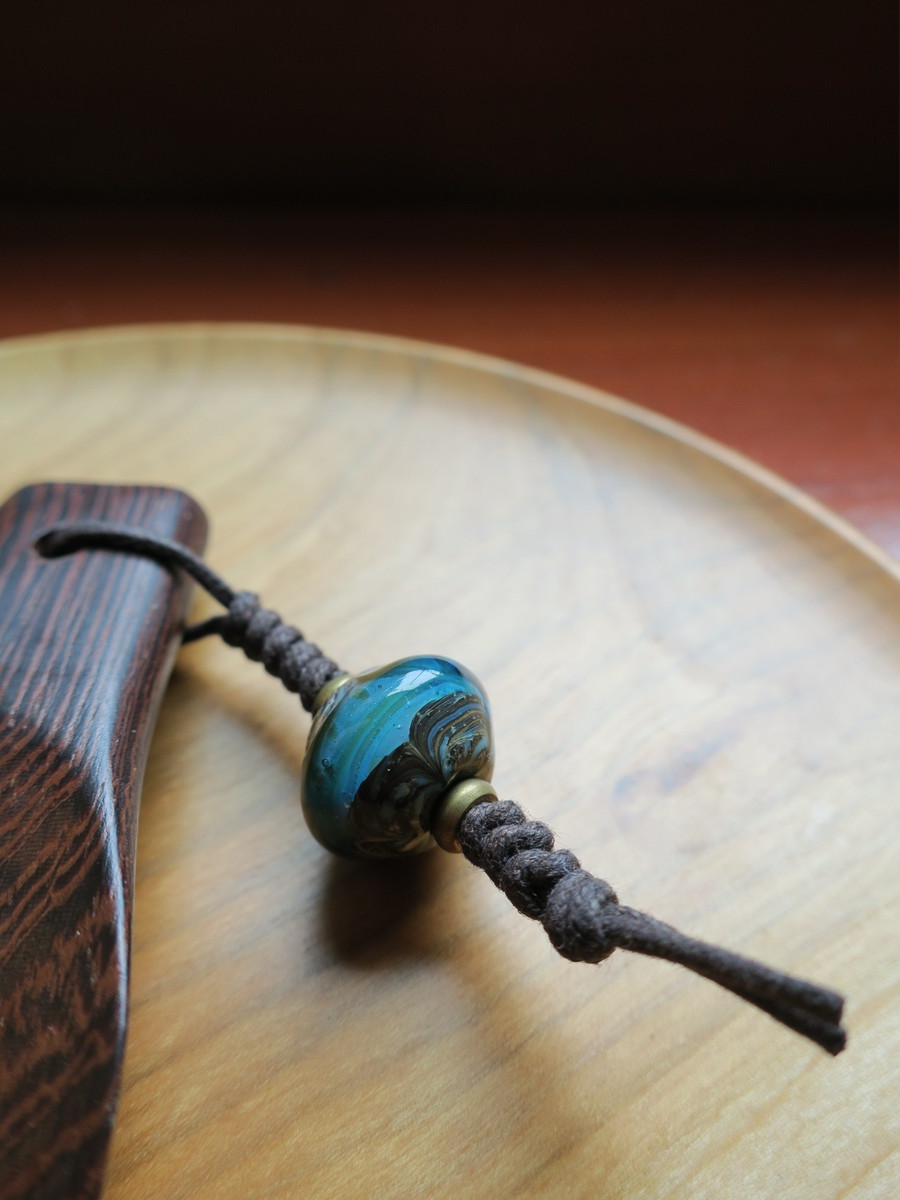 エメラルドグリーンと混ざり合った偶然の模様がとても独特です。
It is a destined encounter of marble green and blue.