和CAFEで人気のフルーツティーをおみやげに。
A fruit tea souvenir from a popular Japanese tea cafe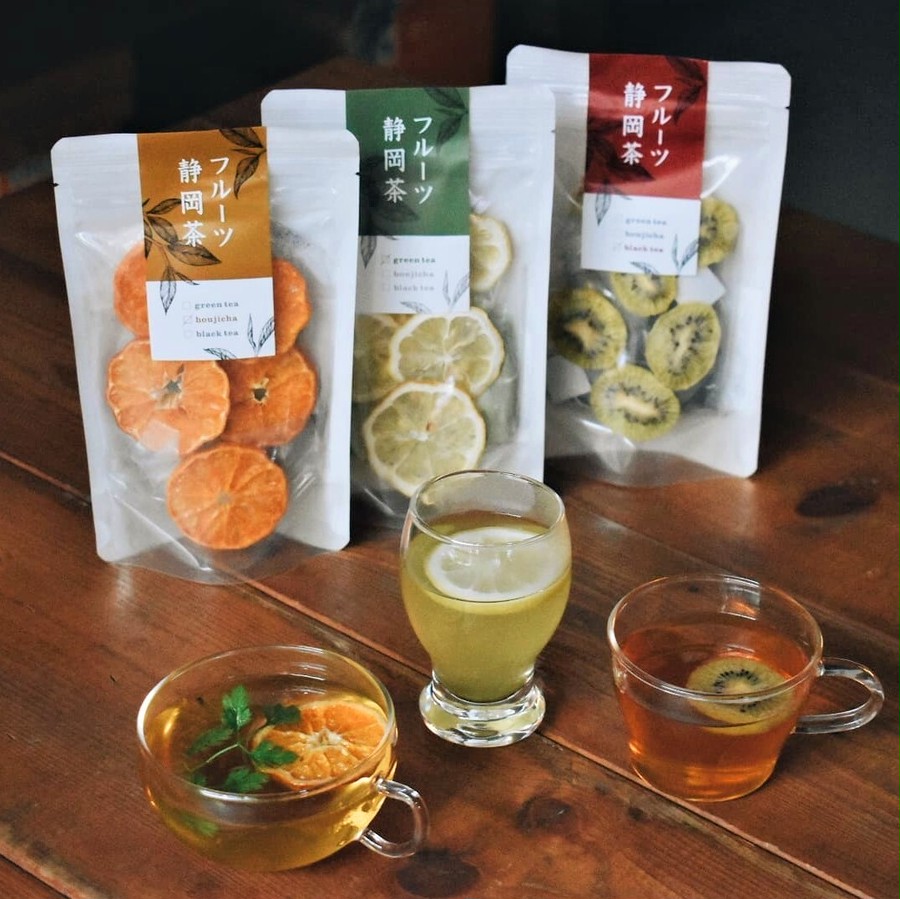 「和CAFE茶楽」の人気メニュー「静岡茶サングリア」をご自宅でも楽しめるようにアレンジ。色鮮やかな静岡産のドライフルーツと静岡茶をマッチさせた、お茶カフェならではのお茶です。

お茶カフェを始めて15周年になる「和CAFE茶楽」は、静岡市内でも一番古いお茶カフェ。
ペットボトルのお茶が主流となりつつあった2005年、「若い世代にも、急須で淹れるお茶の魅力を知って欲しい」という思いから、「和CAFE茶楽」を開業しました。古民家風の店内にはジャズやボサノバが流れ、落ち着いた雰囲気の中でランチを楽しむこともできます。
[ Wa CAFE cha-luck ] has a long- standing popular drink [ Shizuoka tea sangria ] and now it became a new product, available for you to enjoy at home. Being highlighted in locally-grown fruits and Shizuoka green tea, this perfect combination has a uncompromising quality.

It's been 15 years since the opening, Wa-cafe Chaluck is the oldest Japanese tea cafe in Shizuoka city.

In 2005, when people are already used to drink plastic bottled tea, the owner of [ Wa Cafe Cha-luck ] opened his cafe, hoping for more young generation get to know more about a charm of pot-brewed tea. Being as a tea wholesaler, there was a potential capacity of promoting both classical Shizuoka tea as well as new style of drinks, just like coffee or English tea. This is why a new idea of fruit tea, Shizuoka tea- sangria was born, and soon it became one of the cafe's signature drinks.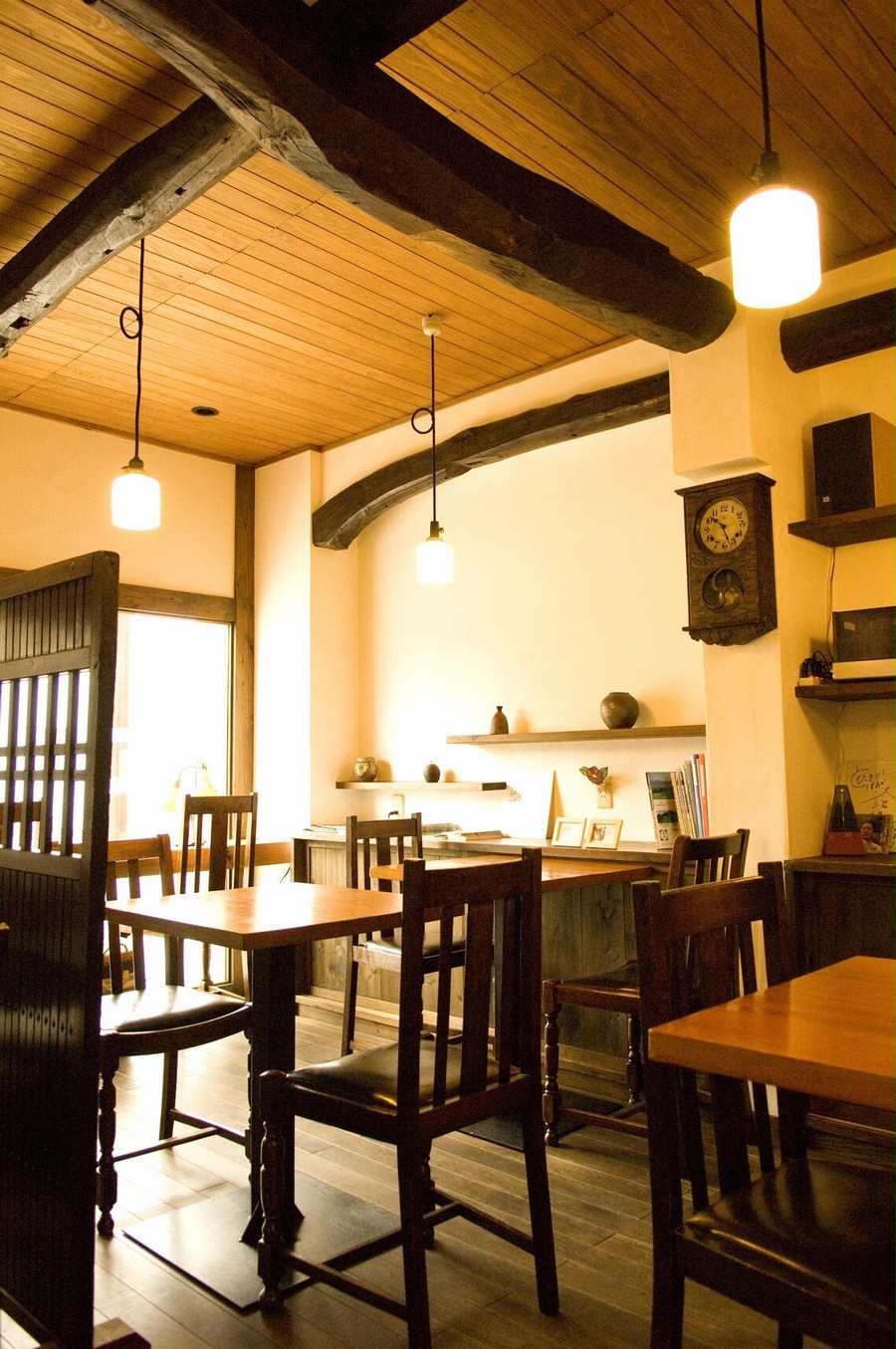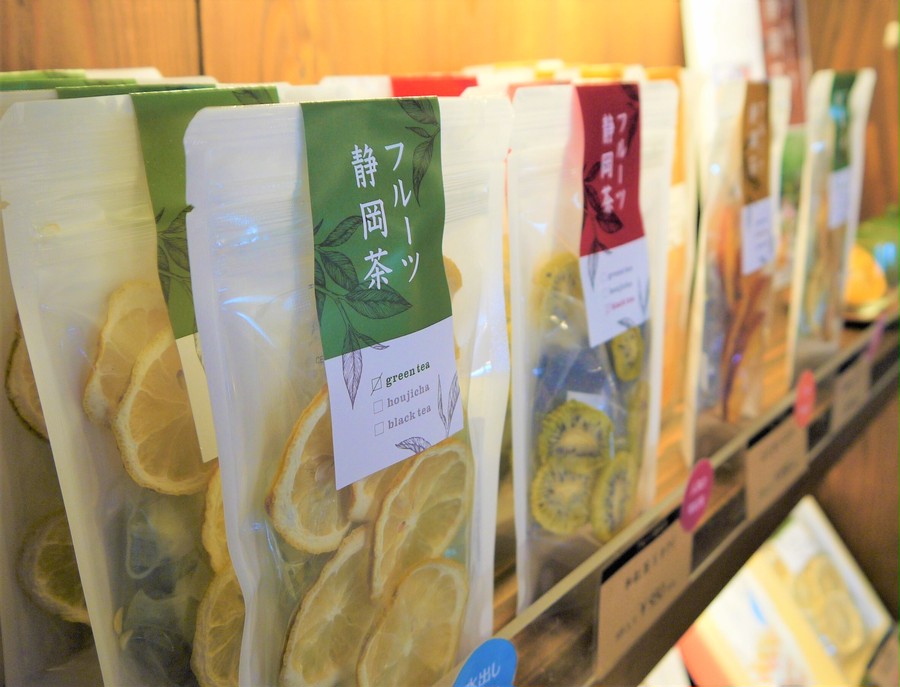 ペットボトルのお茶が主流となりつつある中で、茶問屋直営のお茶カフェとして、クラシックな静岡茶の魅力はもちろん、コーヒーや紅茶のように、アレンジによって広がるお茶の楽しさも知って欲しいという思いからフルーツティー「静岡茶サングリア」を作り、お店でも人気のメニューとなりました。

その人気メニューをプレゼントやおみやげに出来るように商品化したのが「フルーツ静岡茶」です。
ティーバッグでお茶を入れてフルーツを浮かべるだけ。誰でもどこでも「目にも愉しいお茶時間」を愉しめます。
Plastic-bottled tea is becoming a mainstream nowadays along with the lifestyle changes, however, being an oldest Japanese tea cafe as well as a direct wholesaler of green tea in Shizuoka, Cha-luck has introduced this Shizuoka tea sanguria(fruit tea), a combination with professionally-selected tea for the cafe. As a result, it has become one of their signature drink.
This time, the tea was modified and rearranged in order to suit more demand for charming local souvenir or gift of Shizuoka.
みかん×ほうじ茶、キウイ×和紅茶、レモン×緑茶の3種類のほか、季節限定でイチゴやピーチも登場。
茶問屋こだわりのさまざまお茶に、無添加無糖の静岡フルーツがほんのりと香ります。

今回はみかんほうじ茶、キウイ紅茶、レモン緑茶の3種類をセットにしてお届けします。
ぜひ新しいお茶の楽しみ方をご家庭でも。
The standard selections are mandarin & Hōji-cha, kiwi & Japanese black tea, lemon & green tea. And strawberry or peach are added during the season. Excellent grade tea are well-presented with a hint of non additive & no sugar-added aromatic local fruits.

This time for FIEJA, a set of mandarin & Hōji cha, Kiwi & black tea, Lemon & greentea ( 3 kinds ) were assorted in 1 package.

Enjoy your soothing time with another tea experience at your home.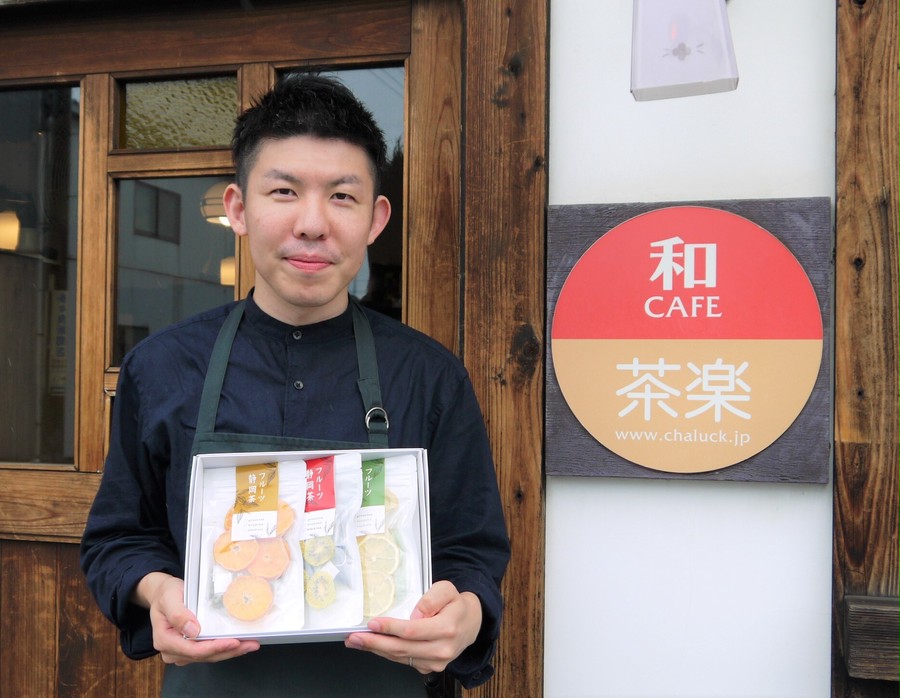 フルーツ茶3種セット 3,950円(税込・送料込)
Fruit tea ( 3 kinds) / 1 set
JPY 3,950 ( tax & delivery charge included )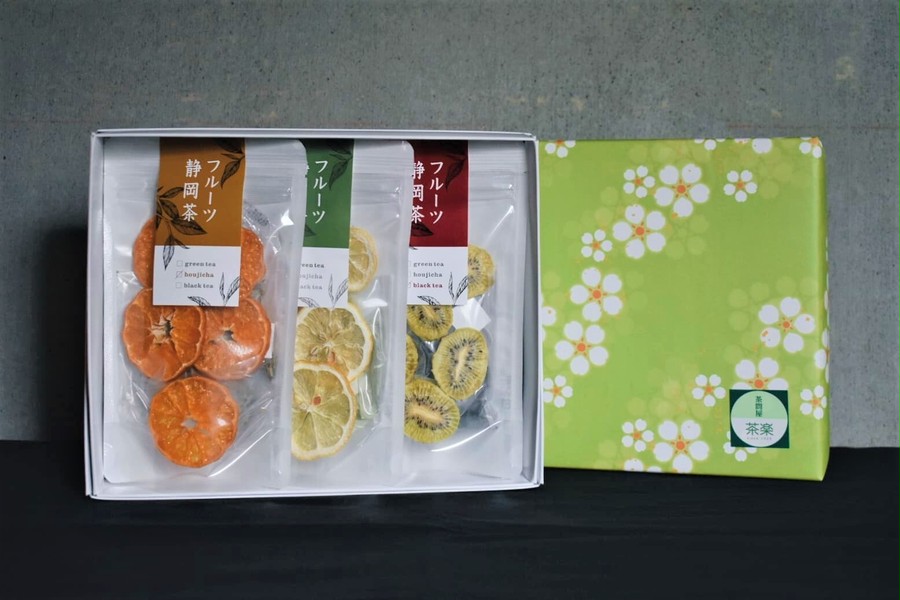 【原材料名】ドライフルーツ・茶
【原料原産地名】静岡県内各所(フルーツ・茶ともに)
【内容量】各種5杯分
     (ティーバッグ5包+フルーツ)
     ※フルーツは種類により、入り数が異なります。
【賞味期限】発送日より約6カ月
【保存方法】直射日光、高温・多湿を避け、保存してください。

【ギフトの内容】
①静岡ほうじ茶 × 静岡みかん
②静岡紅茶 × 静岡キウイ
③静岡緑茶 × 静岡レモン



Ingredients: dryfruit, tea
Place of origin: Shizuoka ( both fruit & tea )
Contents: 5 tea-bag sachets & fruit available to make 5 cups of tea
* Number of fruits may vary depends on fruit

Best before: 6 months from the delivery date
Storage: Avoid direct sunlight, high temperature, high humidity. Store in cool place.

[ Gift Package ]

① Shizuoka Hōjicha & Shizuoka mandarin
② Shizuoka black tea & Shizuoka kiwi
③ Shizuoka greentea & Shizuoka lemon