イチゴにこだわり続けて100年以上の山内屋。
久能山石垣いちご100%のジャムを通年楽しめるいちご狩りの思い出に。
Yamauchiya proudly presents more than 100 years of passionate making of strawberry.
100% pure Kunozan Ishigaki strawberry jam for your memory of strawberry picking.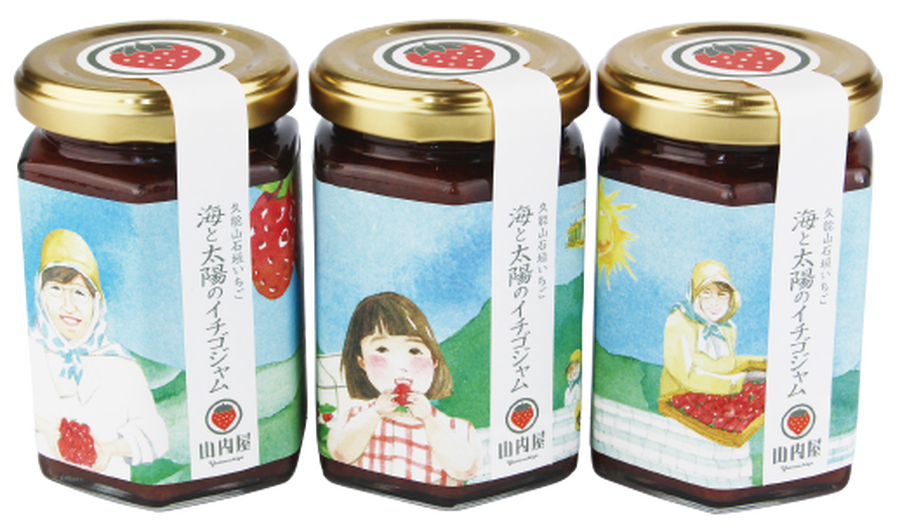 久能海岸沿いの東西6㎞に渡り、有度山の地形を最大限に利用して作られる久能山石垣いちごは全国でもその名を知られています。南からの太陽の光をめいっぱい受けて石垣に熱を蓄え、加温することなく温かなビニールハウスで育てられたいちごは、1月から収穫され、いちご狩りには多くの観光客が訪れます。
Stretched across the Kuno coast line of 6 km from east to west, Mt. Kuno produces one of the most famous strawberry thanks to its geological uniqueness of Mr. Udo.

As the sunlight receives sufficient sunlight from the south and the keep its heat inside the Ishigaki ( stone wall ), so that the strawberries grow up naturally in the warm house without additional heat.

They are harvested from January and many tourists visit there for strawberry picking.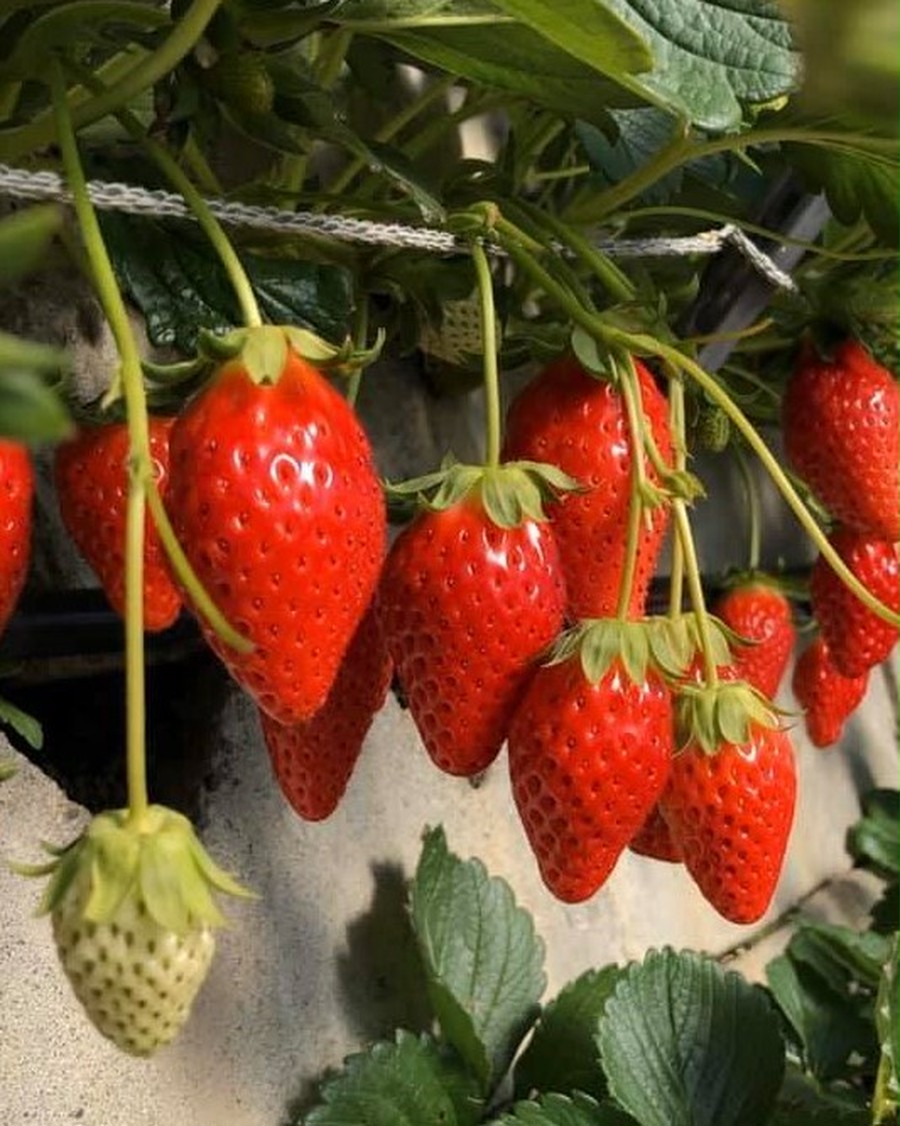 大正時代から100年以上も続く山内屋の3代目山内里美さんが手掛けるのは、その久能山石垣いちごだけを使い、控えめの砂糖で煮た手作りのいちごジャム。元々多く採れたいちごをジャムにし、いちご狩りに訪れた人だけがお土産にパックで買って帰っていたものをさらにブラッシュアップ。1年を通じて石垣いちごを楽しめるよう瓶詰のジャムにしまし
た。
Satomi Yamauchi, the 3rd generation of Yamauchiya of its 100 years of strawberry making, she introduces homemade strawberry jam. It is cooked with pure Ishigaki strawberries and less sugar. Originally this jam was sold as a package of souvenir for strawberry picking visitors. Now this was modified and improved for a polished taste. The jam was produced in a glass jar in order for everyone to enjoy the taste throughout the year.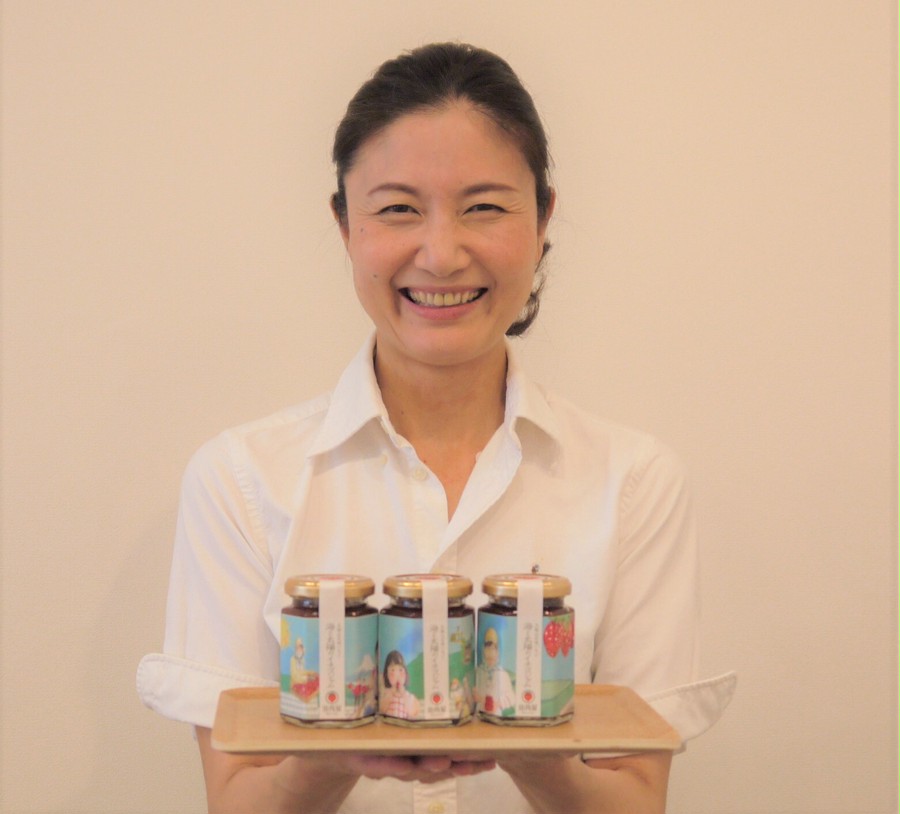 石垣いちごの農園から見える久能の美しい海岸線、また徳川家康公も眠る荘厳な久能山東照宮のお膝元で「土地の力」、「地球の力」を感じながら、久能山石垣いちごに思いを馳せ、また訪れたくなる場所になって欲しい。
山内さんがこれからも石垣いちごを守りたい想い、地元への想いがたくさん詰まったいちごジャムです。
Their strawberry farm overlooks graceful coastline of Kuno, and above the farm, there is a holy Kunozan Toshogu shrine where Shogun Ieyasu Tokugawa is buried.
In this unique place of its own history of the land and the nature's power, she hopes that people will feel the story of Ishigaki strawberry and visit this place.
And the jam is filled with a love for Ishigaki strawberry and the motherland.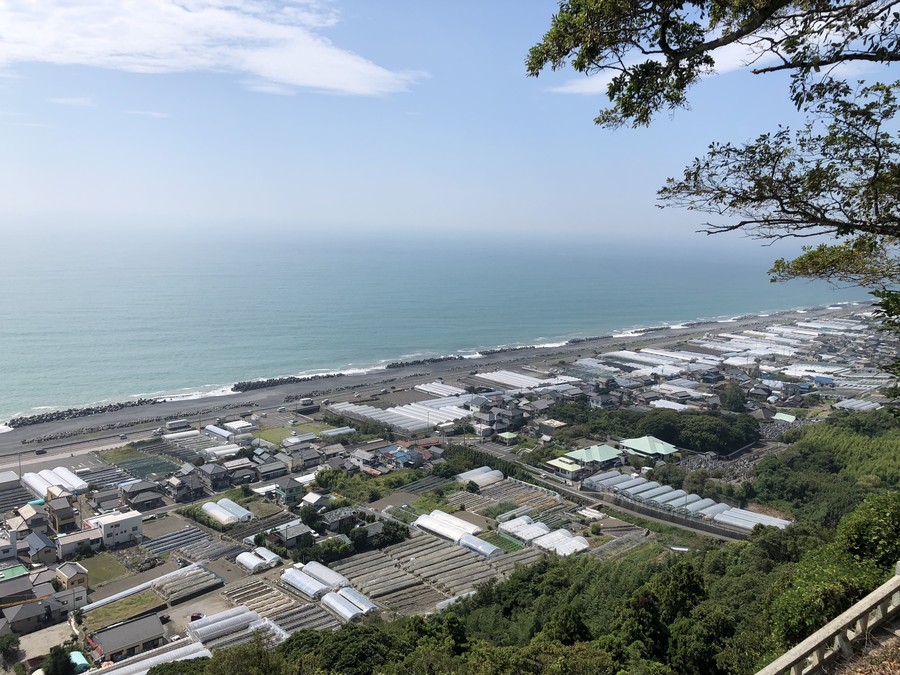 「久能山石垣いちごの歴史」
The story of Kunozan Ishigaki strawberry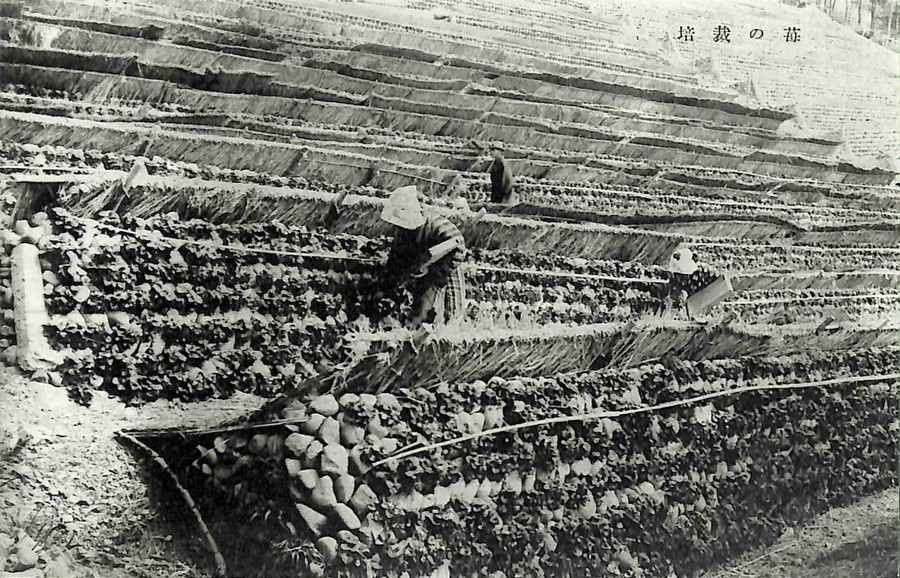 静岡市の久能山石垣いちごの営利栽培は、約120年の歴史を持つ我が国で最も古い産地の一つです。温室のない時代に、玉石の間にいちご苗を植え石の蓄熱および輻射熱を利用して、冬の間もいちごが栽培できる技術を生み出しました。1960年代に入ると、東京市場で約98%の流通量を占める早出し産地として注目されました。
Ishigaki strawberry of Kuno district in Shizuoka has the oldest history of commercial cultivation in Japan for its unique system of stone-wall method since 120 years ago. The seedings of strawberry are planted among round stones that can store, reflect direct sunlight and this high solar energy power could be fully utilized for cultivating strawberries even during the winter. During 1960s, Ishigaki strawberries become popular because of the advantage in producing ahead of other farmers, even occupied 98% of whole distribution of Tokyo market.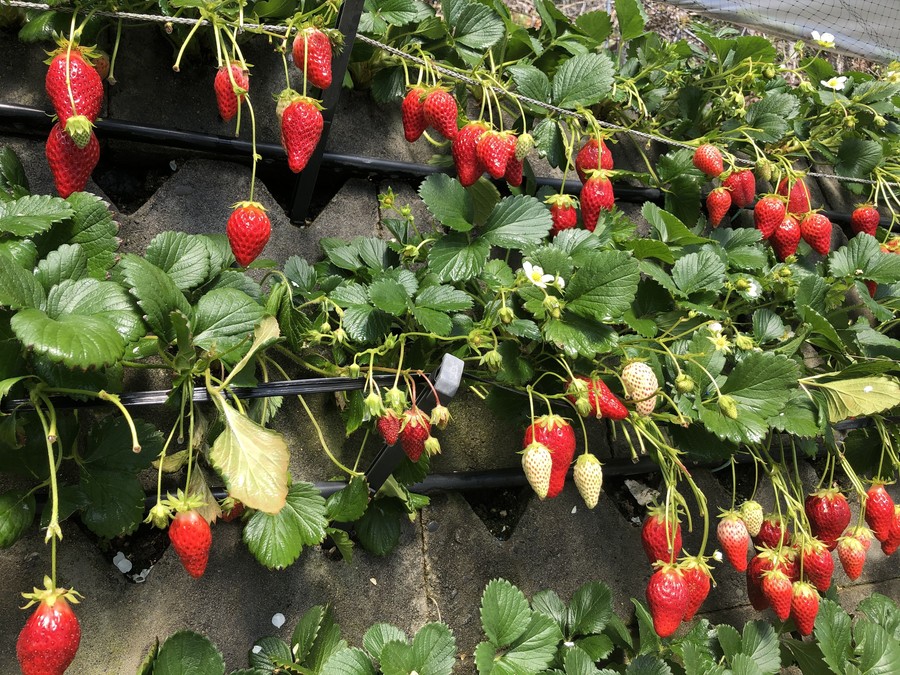 「章姫」は、久能地区在住であった故・萩原章弘氏によって「久能早生」に「女峰」を交配し、育成されました。果肉が柔らかく大粒であり果汁も豊富な為、いちご狩りのお客様には大変人気の高い品種です。流通に不向きな品種である事や、近年さまざまな新種が発表され、「章姫」の苗は入手し難くなる傾向にあります。山内屋は地元で誕生した「章姫」を敬意をもって大切に育てています。
[Akihime ] brand strawberry is a hybrid of [ Kuno-wase ] and [ Nyohou ] breeds grown by the late Mr. Akihiro Hagiwara who had lived in Kuno district. This breed is very popular among strawberry-picking tourists for its soft, juicy pulp as well as its large size. Since this breed is not well suited for outbound distribution, in addition, , there are increasing numbers of new breeds developed, it is becoming difficult to obtain the seeding of Akihime. Yamauchiya has been growing Akihime with great respect, because it genuinely originated from this place.
3個セット 3jams in 1 package
3,350円(送料込)
内容量 150ml
原材料 いちご、砂糖
賞味期限 製造日から3か月

price: JPY 3,350
contents: 150 ml
ingredients: strawberry, sugar
Expiry date: 3 months from a date of production