KANZASHI by 三代目板金屋/ Sandaime Bankinya
城下町、駿府の受け継がれた職人技が美しい「かんざし」になりました。
The succeeded craftsmanship of Sumpu reborned as a beautiful hairpin.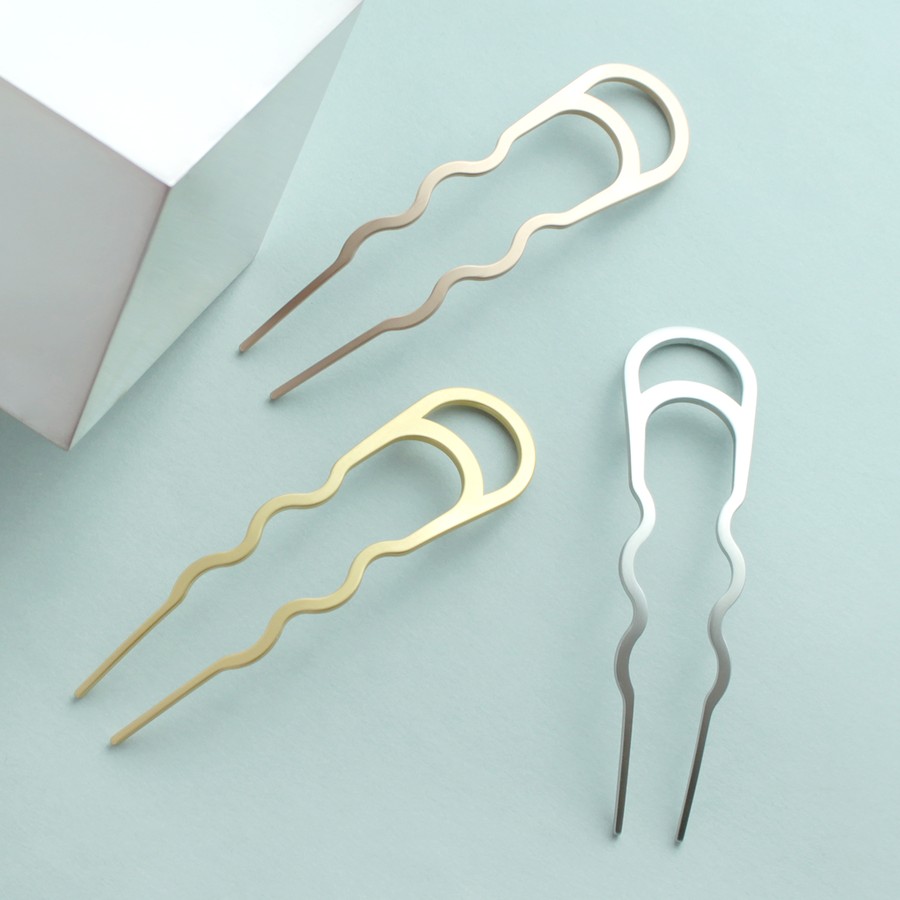 KANZASHI シリーズについて
伝統的なかんざしが、made in Japanの金属加工技術によりモダンなKANZASHIへ。
それは「美しさ」と考え抜かれた「機能性」が融合した逸品です。
「美しさ」…シャープさと丸みの両方を併せ持つデザインは、髪をまとめる動作まで美しく見せます。
「機能性」…金属加工のプロが生み出した継ぎ目のない一体型デザインと立体
「耐久性」…さっと洗って使え、長く安心して使える
視線を集める、スタイリッシュなデザインには、ものづくりのストーリーがありました。
Traditional Kanzashi hairpin has become a modern, stylish [ KANZASHI ] with a metal processing technology of Japan. It is a masterpiece of an integration of beauty and the function.
[ beauty ]
Metallic sharpness and the soft curving design even make the moment of hairstyling looks dramatic.
[ function ]
Professional metal plating technique integrated whole piece of hairpin with no joint, and it is curved to fit and stays on the hair firmly.
[ durability ]
Fine metal plating promises its durability.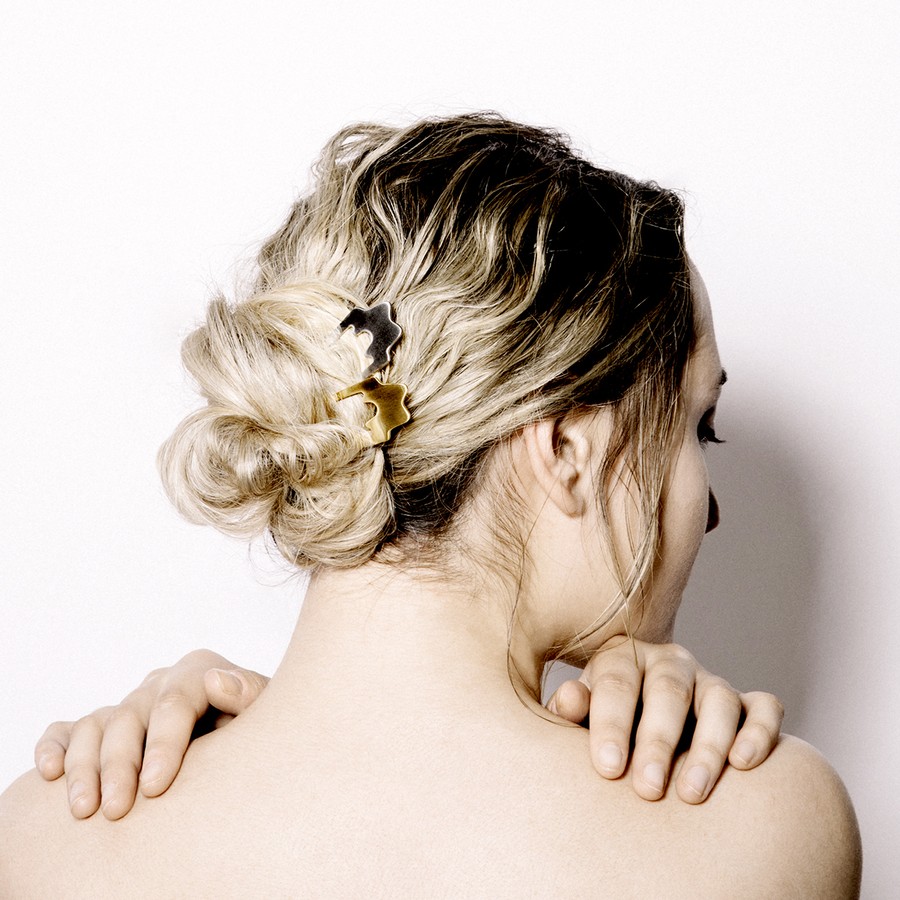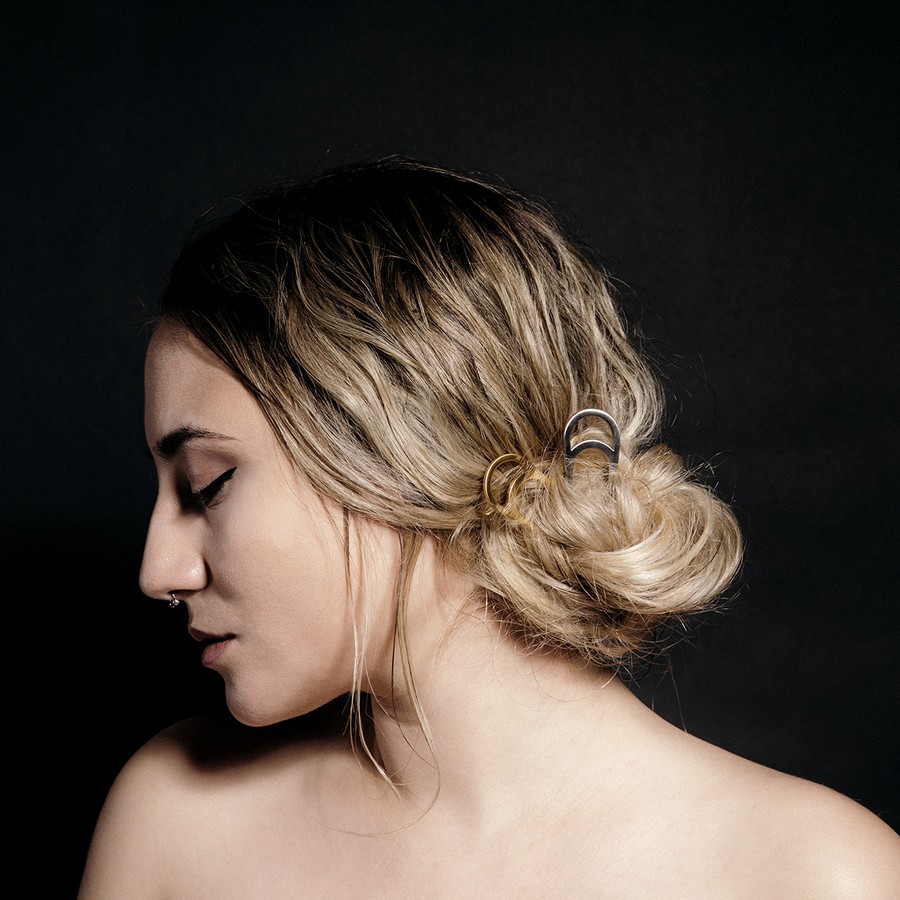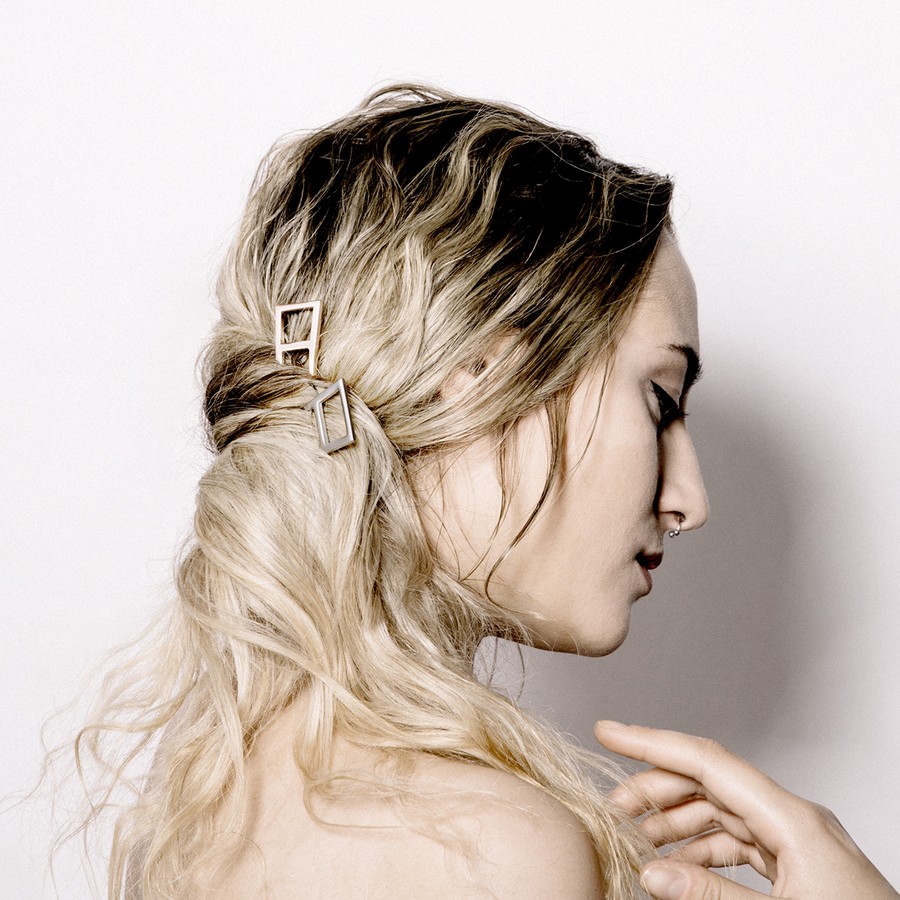 そもそも板金とは?
板金とは字そのもの、板状の金属。
金属を叩き、形状を自在に作り上げる技術の事です。
古くは「ブリキ屋さん」があり、日々の暮らしで使われる様々な道具の製造加工や修理になくてならない職業でした。
そしてかんざし(櫛)も、古くは縄文時代から呪術に使われる大切な道具として、すでに職人技が発達していました。繊細かつ高度な技術は、モノの需要と進化にあわせて発展してきたのです。

そして徳川家康が築いた駿府城のお膝元。
そこには多くの職人が集結し、刀や鎧をはじめとする高い工芸技術の武具や調度品を作りました。
現在でも静岡に製造業が根付いているのはこの為です。
細かな手仕事に加え、今ではその製造規模も大きく変化し金属加工は製造機械や建築業全般にも大きく関わっています。
[ Bankinya ] is a meaning of [ Metal plate manufacturer ] who process metals by cutting, bending or folding etc, and meet various demands from machinery industries.
In old times, there were tinsmith who looked after many essential inquiries of tin product making, repairing in our living.

Ornamental hairpin or comb had been produced back in Japan's Jomon era for the purpose of spiritual conducts. There were craftsmen who had a technical skill of comb making. Since long time ago, specific demands in every civilization stage development had stimulated creative product designs.
When Ieyasu Tokunaga ushered in the era of the Edo shogunate, he moved to Sumpu castle in Shizuoka. Many highly-skilled craftsmen were invited to Sumpu to produce various craftworks such as swords, armors, furnitures and other handcrafted items.
This naturally resulted in taking roots of high skill manufacturing in this area.
Today, from precise handworks to mass industrial production, Bankin technique has been still innovating in a field of machineries and construction field.
三代目板金屋
工作機械や医療機器などの製造を請け負ってきた1967年創業の山崎製作所。
3代目の山崎氏が立ち上げたブランドが「三代目板金屋」であり、板金技術とファッションを繋げたアクセサリーを発表しました。
それが「KANZASHI」です。

機械仕上げの技に、人の勘と厳しい検査が加わり、made in Shizuokaの高品質かつ美しい製品が生まれます。

[KANZASHI] は、日本の製造業の原点を思わせてくれる「むかし」と「今」が出会った商品です。
About Sandaime Bankinya

Established in 1967, Yamazaki Seisakusho is a company contracts for the machine tools and medical equipment production. Its 3rd generation of the family Ms. Yamazaki set up a new brand called [ Sandaime Bankinya] released new product that mixed both metal plating technique and the fashion: it is the [ KANZASHI ].

A strict final inspection is made on the precise machine making, the result of the product represents genuine Japan quality.
So [ KANZASHI ] is a product that reminds us of the origin of Japanese traditional manufacturing, and connecting us to the modern times.
光を集め、シャープに放つ。研磨を極めた美しさ。
Collect & release the light, a beauty of an ultimate polish.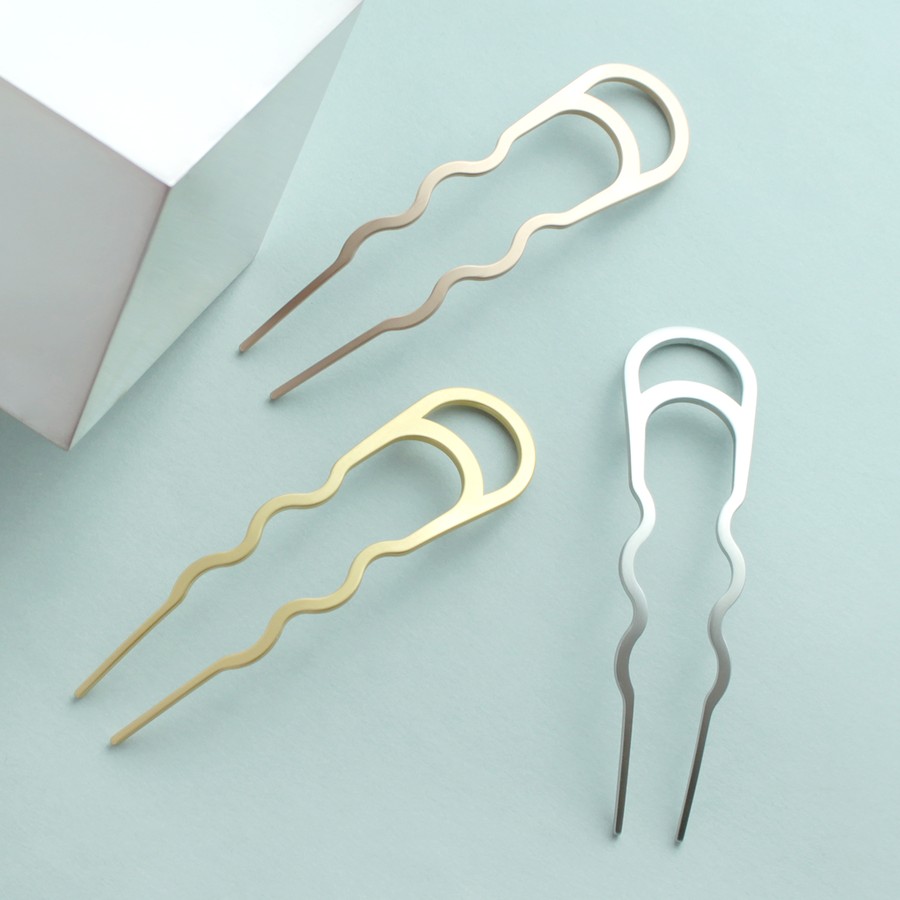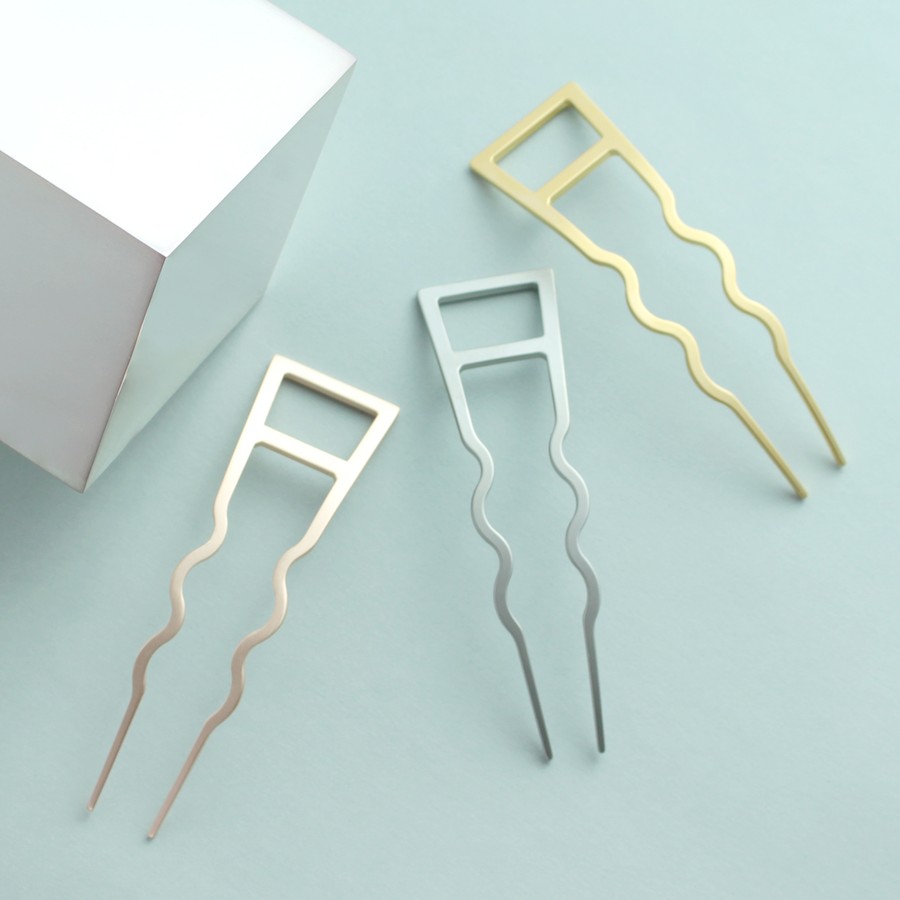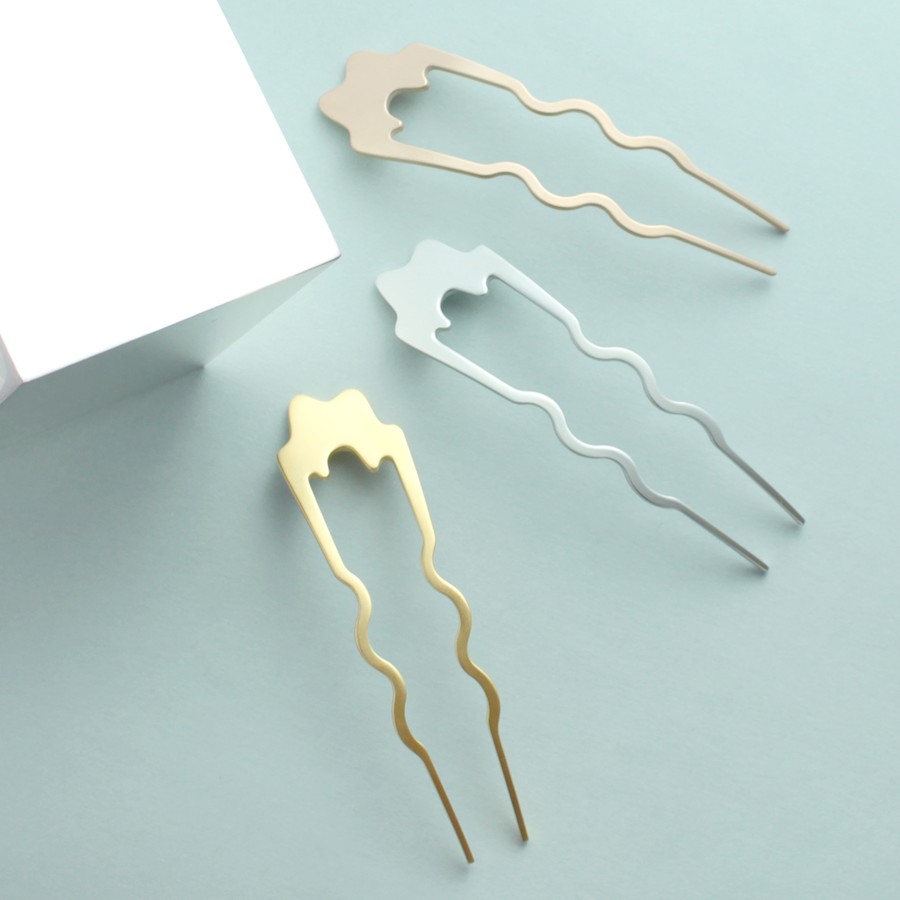 BASIC シリーズ
[Simple & tough ]
3デザイン ( Round/ Square /Curvy )
3カラー ( Silver / Gold / Pink Gold )
コンパクトながらも、一本で髪がしっかりまとまるので「簡単&キレイ」が叶います。
シンプルなデザインで、使いやすさ抜群。アクセサリーと合わせたり、2本挿しもおすすめ。毎日のおしゃれがもっと楽しくなるかんざしです。

It is a compact size but holds the hair firmly. So your styling can be simple & good-looking. Simple step makes a perfection.
What's more, its minimal design is designed for everyday use: you can also use it with other accessories or arrange 2 different KANZASHIs. Your daily styling will bocome more joyful with KANZASHI.

KANZASHI Basic series
Round - Silver/ Gold/ Pink gold
Curvy - Silver/ Gold/ Pink gold
サイズ/size:約26×100mm
足部長さ/length:約80mm
材 質/material:ステンレス304(18-8)/steinless steel304(18-8 )
カラー/color:Mat Silver(マットシルバー)
重さ/weight:約/apprx.12g
Gold,Pink gold はメッキ/Gold plated , ニッケルフリー/ Nickel Free
Square - Silver/Matt gold /Matt pink gold
サイズ:約28×102mm
足部長さ:約80mm
材 質:ステンレス304(18-8)
カラー:Mat Silver(マットシルバー)
重さ:約12g
Gold, Matt pink goldはメッキ/ Gold Plated. ニッケルフリーNickel-free